Giving an ambulance to Thuan Hung ward - Thot Not - Can Tho City
---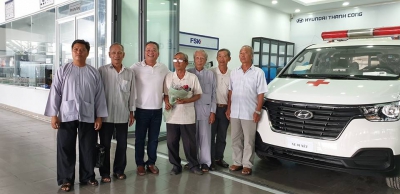 ---
On the morning of November 6, 2018, Mr. Nguyen Chanh Thanh, Mr. Nguyen Chanh Thanh (Chairman of Duc Thanh Group, founded the Charity Fund - Duc Thanh Garment Company) supported to give a new ambulance (worth 735,000,000 VND) for the Charity Executive Committee of Thuan Hung Ward - Thot Not - Can Tho City.
Support amount: VND 200,000,000.
Representative: Mr. Truong Van Hoang - 0396505259.
After being officially put into operation, the car will be used for transporting poor patients locally and in the vicinity of the Thot Not area.