Support for the cost of treating Nguyen Huy Dieu Phuc and Tran Nguyen Phuong Uyen
---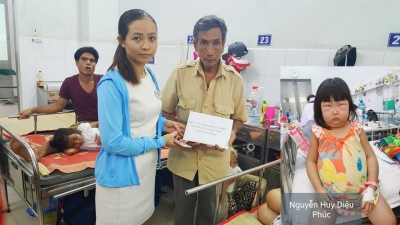 ---
On March 15 - 2019, Representing the Charity Foundation - May Duc Thanh Company awarded 30,000,000 emergency support for 2 cases of emergency treatment in Saigon.
1. Support VND 20,000,000 for Nguyen Huy Dieu Phuc, Chau Doc countryside, with kidney failure. Baby is located at 1st floor, Department of Kidney, Children's Hospital 2.
2. Support 10,000,000 for Tran Nguyen Phuong Uyen, a native of Quang Ngai province, with leukemia. Baby is located in Ho Chi Minh City Cancer Hospital.
Sincere thanks to Ms. My - partner of Duc Thanh Garment Co., Ltd. for giving hands-on support to her two children.