Giving gifts to poor students in Vinh Binh secondary school (Chau Thanh - An Giang) Featured
---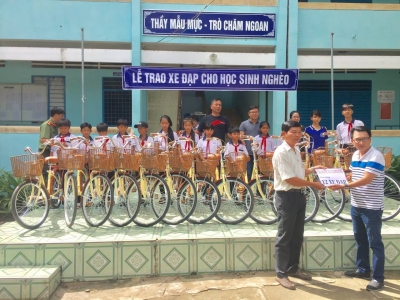 ---
On October 20, 2018 Charity Fund - Duc Thanh Garment Company cooperated with Mr. Nguyen Hong Quy (Economic Security Department PA81 - Police of An Giang province) to give 13 bicycles (1,300,000 / piece) to the children. Poor students of Vinh Binh Secondary School, helping them to no longer struggle to walk to school every day, wish them happy to come to school on new bikes.
In addition, the Fund also awarded 20 sets of pillow blankets, 20 backpacks and 13 envelopes (300,000 / envelopes).
Support fund: 12,000,000 13 envelopes (300,000 x 13 = 3,900,000) 20 ErgoBaby 20 pillowcases ErgoBaby backpacks. The rest is supported by sponsors.
Sincere thanks to Mr. Quy, Mr. Cuong (soy sauce Huong Sen), Mr. Hai (Ho Chi Minh City), BIDV Bank - Branch of Long Xuyen, Anh Binh (KKT Management Board), Mai spa (Chau Phu) and others Mr. Quy's friend has accompanied this program.